Salman Agah is an integral figure in modern skating. He rode am for Powell before going pro for Real Skateboards, then moved to The Firm Skateboards and then Black Label Skateboards. He also rode for Vans and Lakai Shoes, with signature models with each. His stance is Regular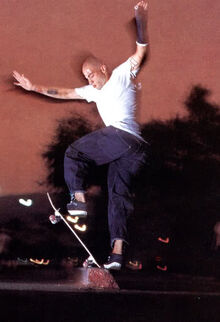 , but he is a pioneer of switchstance, and with his smooth, powerful skating he was named Thrasher Skater of the Year in 1993.
Ad blocker interference detected!
Wikia is a free-to-use site that makes money from advertising. We have a modified experience for viewers using ad blockers

Wikia is not accessible if you've made further modifications. Remove the custom ad blocker rule(s) and the page will load as expected.