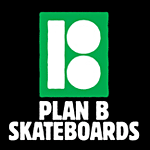 Plan B Skateboards is a skateboarding company based out of Vista, California in association with Syndrome Distribution.
Template:Unreferenced section The Plan B Skateboarding team was founded in 1991 by . The team was comprised of many (already) pro skateboarders including Mike Carroll, Rick Howard, Rodney Mullen, Sean Sheffey, and Pat Duffy, while also including skateboarders, Danny Way and Colin McKay.Also intoducing the new skater to the group Leon Smith
In 1993, Mike Ternasky was killed in a car accident, leaving the ownership of the company in the hands of Danny Way, Colin McKay and Paul Ogletree who temporarily shelved the company and the team.
In 2005, with the financial backing of Syndrome Distribution, Way and McKay reformed Plan B Skateboards. The new skateboarding team included Ryan Sheckler, Ryan Gallant, PJ Ladd, Paul Ogletree,Brian Wenning. Way and McKay maintained their roles as team co-owners as well as professional skaters. in 2013 Paul Rodriguez Jr. left Plan B.
AMs
Videography
Edit
Questionable (1992)
Virtual Reality (1993)
Second Hand smoke (1994)
The Revolution (1998)
Live After Death (2006)
Superfuture (2010)
Ad blocker interference detected!
Wikia is a free-to-use site that makes money from advertising. We have a modified experience for viewers using ad blockers

Wikia is not accessible if you've made further modifications. Remove the custom ad blocker rule(s) and the page will load as expected.