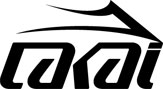 www.lakai.com Lakai' is a footwear company based in Torrance, California that creates shoes designed for skateboarding. Lakai was founded by professional skateboarders and Girl Skateboards co-founders Mike Carroll and Rick Howard in 1999. The company was formed after both riders left DC Shoes. The name Lakai is short for Malakai which is Mike Carroll's favorite character from the horror flick "Children of the Corn". On May 1, 2006, Eric Koston officially signed with Lakai after leaving éS Footwear at the end of 2005 when éS owners Pierre André Senizergues and Don Brown declined to give Koston part ownership in the company. But on April 19, 2009 at 4:55pm it was made official that Koston had decided to part ways with Lakai. As of current the only information on the split is in the press conference video found on Lakai's website, but the video can also be found on various other websites. His next shoe sponsor has yet to be announced. [1].
Lakai is also known for their fashionable recycled 'Selects'.
Their first full-length video Fully Flared premiered on November 16, 2007. It was released on December 7, 2007.
Lakai is part of the Crailtap family, which also includes Chocolate Skateboards, Girl Skateboards, Royal Trucks, Four Star Clothing, Ruby Republic, and Skate Mental.
International Team
Edit
Former Team Riders
Edit
Videography
Edit
References
Edit
Cite error: <ref> tags exist, but no <references/> tag was found
Ad blocker interference detected!
Wikia is a free-to-use site that makes money from advertising. We have a modified experience for viewers using ad blockers

Wikia is not accessible if you've made further modifications. Remove the custom ad blocker rule(s) and the page will load as expected.