Jeremy Klein (born July 12, 1971 in Torrance, California) is a professional American skateboarder. Klein rose to prominence as one of the original riders for Steve Rocco's World Industries. He switched to Birdhouse team. After being one of the first pros on Birdhouse, Jeremy retired from Birdhouse in 2008. He also owns Hook-Ups Skateboards, which is part of the Blitz Distribution family (as is Birdhouse). He has appeared as himself in several episodes of Tom Green Live!.

they normally feature a girl/female of some type doing something. the decks are part of birdhouse familly so they are the same quality.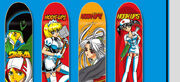 Videography
Edit
This article is a Stub.
You can help by expanding it.