DEATHBOX® SKATEBOARDS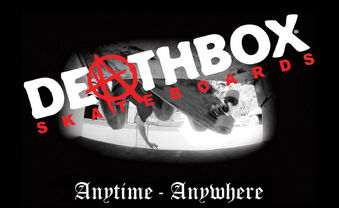 DEATHBOX® is a Federally Registered Trademark Skateboard Brand Name Owned and Operated by Former World Champion and Legendary Professional Skateboarder Dave Hackett. Since 1999, DEATHBOX® Skateboards has been making Decks and Wheels and Apparel for Ripping All-Terrain including Pools, Parks, Banks, Schools, Bowls, Ramps, Race Courses, Streets and where ever or what ever you decide needs to be DESTROYED!   DEATHBOX® Decks are Made in the U.S. A.  And Cater to the HARDCORE 100% SKATER FOR LIFE! The Original 7 Legendary Riders Representing The DEATHBOX® Brand are some of THE MOST INFLUENTIAL AND LEGENDARY SKATEBOARDERS OF ALL TIME! They include All Around OG Malibu Local and SurfSkater DAVE HACKETT, OG DOGTOWN Z-BOYS JAY ADAMS and WENTZLE RUML, HardCore San Diego OG, DOUG "PINEAPPLE" SALADINO, Florida OG, MIKE FOLMER, and two of Skateboardings Most Popular and Legendary Stylists, TOM "WALLY" INOUYE and BRAD "BB" BOWMAN. All these Men wrote the Book on Style, Broke early Boundries, and Laid down the "Rules for Ripping" by Inventing most of the Early Moves and Tricks on Vert, in Pools and on Any and every Terrain you can Imagine. So get yourself a DEATHBOX® deck and Ride with Pride knowing that the Men who Ride these Boards were the First to GRIND THE BOX!
Edit
Ad blocker interference detected!
Wikia is a free-to-use site that makes money from advertising. We have a modified experience for viewers using ad blockers

Wikia is not accessible if you've made further modifications. Remove the custom ad blocker rule(s) and the page will load as expected.