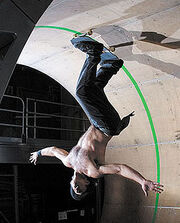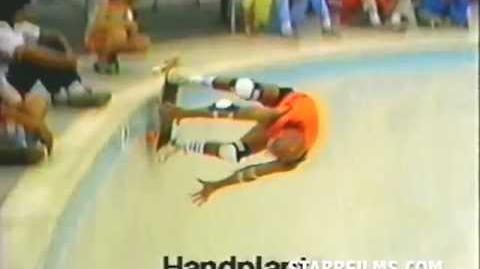 Dave "Hackman!" Hackett (born David Jude Hackett on November 12, 1960) from Malibu, California is considered by the specialized media and his peers as one of skateboarding's true pioneers and legendary riders. He has been featured in just about every single book of Skateboardings' history and in several major skateboard films and movies including the Multi-award winning documentary "DogTown and Z-Boyz".  
EXTREMELY VERSATILE PIONEEREdit
An extremely versatile rider, Hackett won the 1975 Hang Ten World Championship Jr. Men's' Title at 15, and the 1978 US Open Men's Bowl and Pool Riding champion at a competition held at Kona Skate park. "HACKMAN" as is Bros call him, was an early pioneer of Extreme Skateboard stunts, and one of the first skateboarders to successfully blast airs out of empty swimming pools and transfer radical surf moves from the water to the land. In 1979, Hackett starred in the first Action Sports TV show "HotShots" with Overall World Champion Tony Alva. In this show he debuted the first ever "Pipe to Pipe" Ollie and in 1982 was the first to complete a 3 car jump (lengthwise) for a motion picture in Hong Kong using the first rocket powered skateboard!
ARTIST DESIGNER AND BRAND MANAGEREdit
In the 1980's "The Hackman" helped start Jimmy'Z SurSkate clothing line and sponsoring other legendary riders such as Christian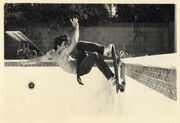 Hosoi, Scott Oster, Eric Dressen, and Steve Olson. In 1985, Hackett's first of two signature skateboards (The Iron Cross & The Street Sickle) was released on the Skull Skates Brand along with team members Duane Peters, Steve Olson and Christian Hosoi. - 1982 was the year The Infamous "HACKETT SLASH" was first captured on film, soon becoming an iconic image in the Skateboard World. In 2003 Hackett was chosen by Juice magazine as one of the 50 Most Influential Skateboarders in the World. In 2005 Hackett formed the Skateboard Racers Association; (SRA), designing and sanctioning professional skateboard races around the globe. At the 2005 at the European Championships in Stockholm Sweden, Hackett was the first and only racer to beat the legendary Italian Champion, Luca Giamarco to take the European TS Skateboard Racing title. In 2006, at age of 45, David set the World Record for being the "Oldest Pro" to do Tony Hawk's Infamous "Loop of Death" – Blowing the minds of young and older surfers and skateboarders around the world. In 2008, former Skateboarder Magazine editor Sean Mortimer included Dave Hackett in his new best selling skateboarding book; "StaleFish" highlighting the experiences of 16 of the World's most influential Skateboarders and to this day, he can be seen in magazines such as The Skateboarder's Journal, The Skateboard Mag, Concrete Wave, and Thrasher. Currently, Dave Hackett is the Creative Director and Brand Manager for Black Leather Racing (BLR), Malibu Surf Skates and Deathbox Skateboards. For more information or to book appearances go to:
http://www.BlackLeatherRacing.com
http://www.DavidHackettDesign.com
http://www.MalibuSurfSkates.com
Ad blocker interference detected!
Wikia is a free-to-use site that makes money from advertising. We have a modified experience for viewers using ad blockers

Wikia is not accessible if you've made further modifications. Remove the custom ad blocker rule(s) and the page will load as expected.