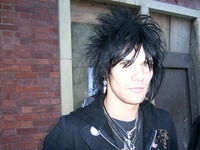 Corey Duffel is a professional Skateboarder that resides in Walnut Creek, California. He is known for his fast-paced skating style, skating big gaps, rails, stairs, and any large obstacles like the freeway gap in Cataclysmic Abyss. His skating stance is Goofy. Duffel still rides for his shop sponsor, Metro, in his hometown. He was born in 1984 to his parents Steve and Sharon.
Ad blocker interference detected!
Wikia is a free-to-use site that makes money from advertising. We have a modified experience for viewers using ad blockers

Wikia is not accessible if you've made further modifications. Remove the custom ad blocker rule(s) and the page will load as expected.