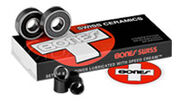 Bones Swiss Ceramics are in a class by themselves. If you want the best there is, this is it. The Cerbec® ceramic balls are much lighter, harder, stronger, and longer lasting than the finest steel balls.
FEATURES -Accelerate faster. -Roll faster and farther. -Resist dirt and moisture better. -Help to repair injuries to your races caused by dirt. -High speed nylon ball retainer for greater strength and speed. -Skate Rated™ clearances, tolerances, materials and lubricant provide the best performance and durability possible. -Sticker
Ad blocker interference detected!
Wikia is a free-to-use site that makes money from advertising. We have a modified experience for viewers using ad blockers

Wikia is not accessible if you've made further modifications. Remove the custom ad blocker rule(s) and the page will load as expected.